Just got it running tonight and strong at 8 lbs of boost.
Specs:
1995 GA16DE w/h 45,000 miles on the clock
1990 GA16i 5-speed manual transmission
Garrett T25 turbocharger (S13 SR20DET)
185cc fuel injectors (I know, right?)
Walbro 255lph fuel pump
Nissan Maxima N60 MAF sensor
A'pexi S-AFC 2
sequential blow-off valve
wideband (not sure what brand)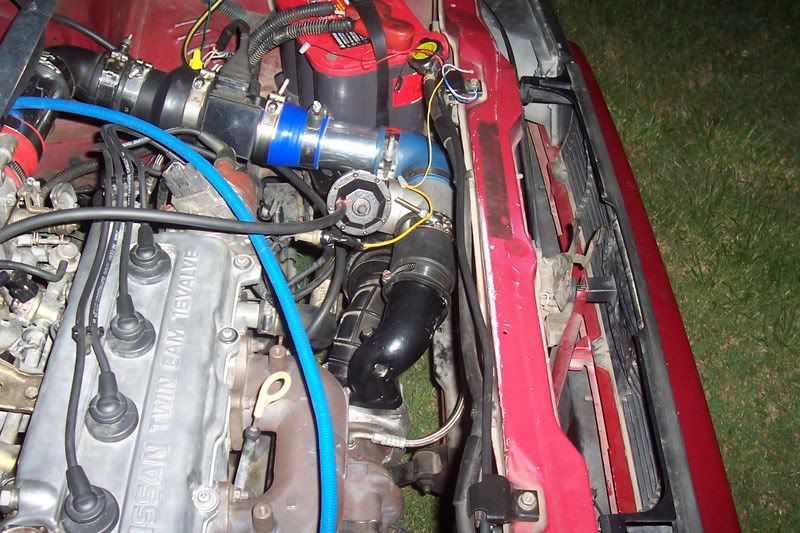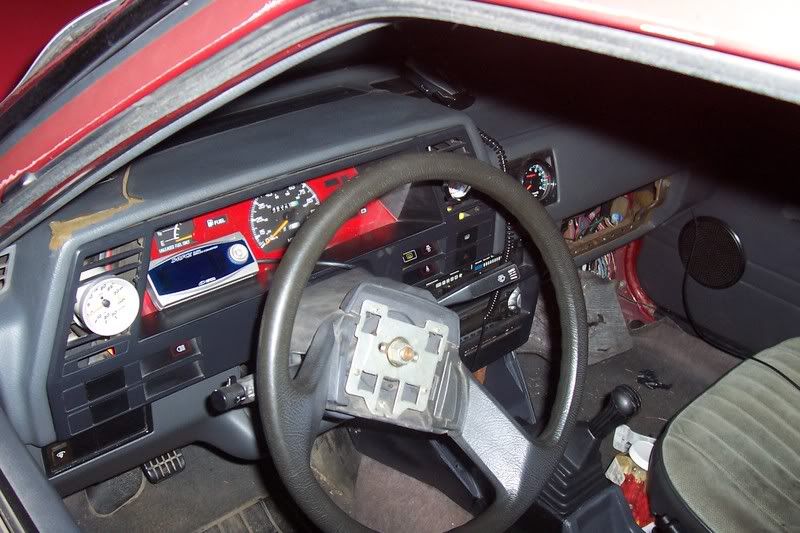 Here is the story about the injectors. I have a spare fuel rail with Nissan 370cc injectors in them, but essentially, they flooded the GA16DE and the S-AFC 2 couldn't compensate. On a whim, we tried the stock 185cc injectors, and the engine runs amazingly well (perfect in regards to air/fuel mixture ratio) up until 5 lbs of boost. It starts to lean out about 5 lbs, and tomorrow we are going to try and compensate for this with the S-AFC 2 since we didn't get a chance tonight. If we cannot compensate, I'm digging out my 259cc injectors from the KA24DE I have laying around. P.S. the GA16DE with the T25 is an absolute beast!
All the random wires are for the wideband, and will not be there once the car is tuned properly. I also have an S13 SR20DET side-mount intercooler that will be installed once everything is tuned up. I am going to run the car tomorrow night at our local dragstrip, so I'll post results. I also have to get a downflow pipe made tomorrow to mate the turbo elbow to the stock exhaust.
For the N60 Maxima MAF, we had to run the S-AFC 2 at 2 In and 7 Out, which for some reason works amazingly well. When I ran the GA16DE normally aspirated, I ran it at 1 In and 1 Out, but for some reason 1 Out doesn't work worth crap with the N60 MAF. Go figure. It has been a fun two days with little sleep. I also need to install an oil restrictor into the oil feed line (we thought there was one already, there isn't
and it burns a little oil coming down off full boost).