Ive posted this on the classifieds already but im gonna post here also so that your guys can see it.
its a never used Garret GT3076R. TO4B Compressor housing . turbo orginally came with a 56 trim TO4 compressor wheel, but i got it sent out to be milled to a 64 trim compressor wheel. 55lbs/min air flow. .86 AR with a T2 exhaust flange has a 84 trim gt30 turbine wheel.. capable of 500+ hp. motor bolts up to stock manifold and exhaust elbow. turbo didnt come with the actuator
and i got one installed on the turbo. im trying to get 1000 for it.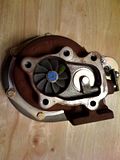 pm me if your interested or want to offer me